LBD - Little Big Data Cluster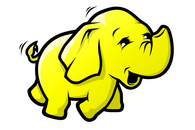 The Service Unit for High Performance Computing at TU Wien offers a small Hadoop cluster named LBD (short for Little Big Data) composed of 20 nodes (//20 Server 2x XeonE5-2650v4/20 cores/256GB/10Gbps//). The cluster is operational since December 2017 and is currently used for teaching, seminars, and science. LBD-Cluster, opens an external URL in a new window.
The goal of the Little Big Data Cluster is to provide a stable working environment for researchers and teachers at TU Wien. Based on the Cloudera platform, which is based on Hadoop, the cluster runs applications such as Apache Spark, Hive, Cassandra, MongoDB and Kafka. The team around the dataLAB flexibly adapts the offer to the requirements of the users in order to support them in their projects in the best possible way.
Furthermore, the cluster can also be used for teaching purposes.
For more information, see coLAB, opens an external URL in a new window.
Service Center

© TU Wien