AnyConnect under Linux (Ubuntu 20.04)
Requirements for the installation:
1) A valid VPN account of the TU Wien in the format:
Username@tuwien.ac.at
Username@vpn.tuwien.ac.at
Username@student.tuwien.ac.at
If you do not have such an account, please contact the responsible address manager of your institute or the TU.it service centre at help@it.tuwien.ac.at and then continue with the instructions.
2) Please also note that root rights are required for installing the VPN client and establishing the VPN connection.
The VPN client can be downloaded for installation from the https://vpn.tuwien.ac.at, opens an external URL in a new window website. For the download, a login with the VPN account and corresponding password (see above) is required.
If you have forgotten your password, you can change it at https://login.tuwien.ac.at, opens an external URL in a new window in the account management under "My accounts" -> "Network account".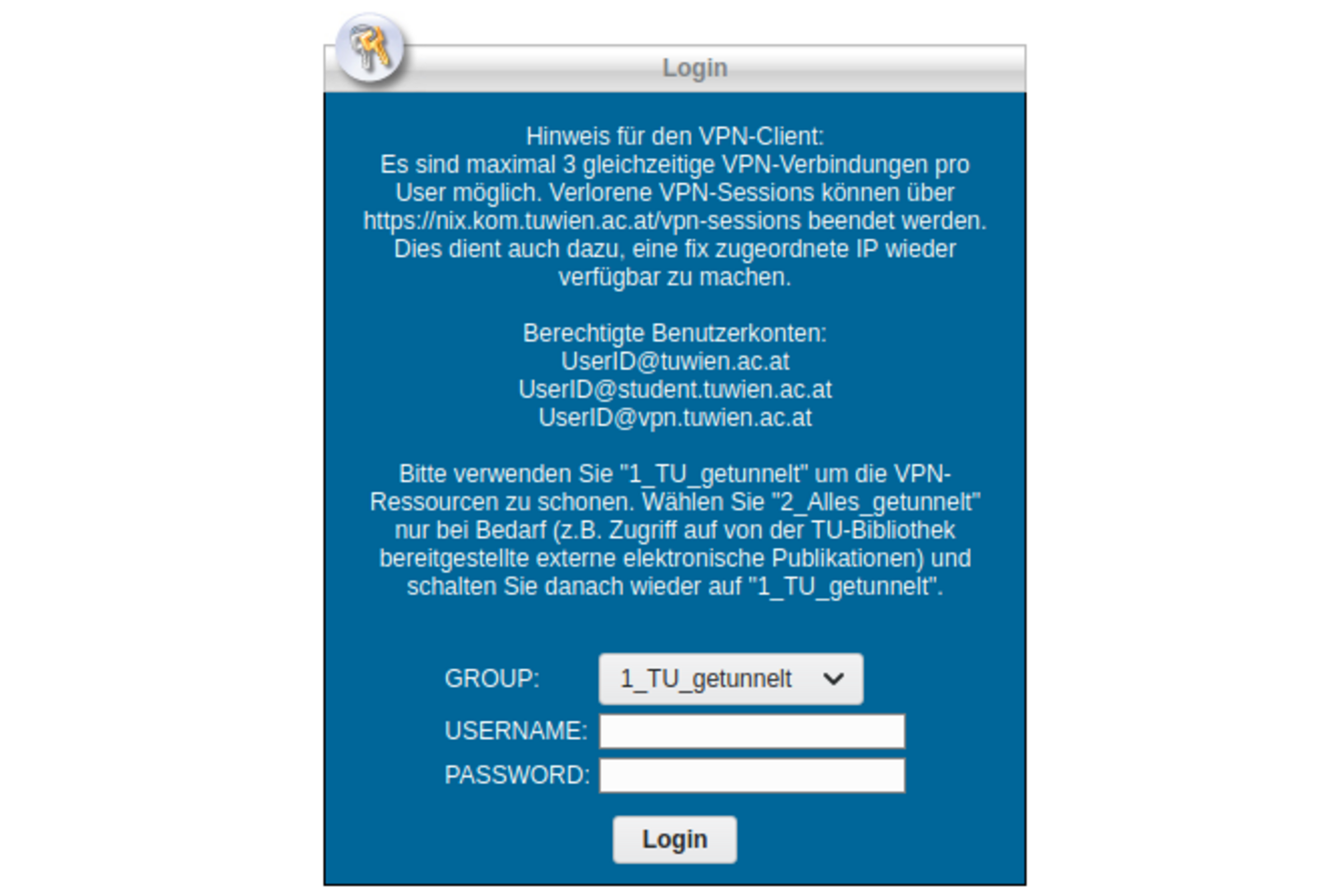 The group (Group) when logging in before installation is not relevant, as no VPN connection is established via the portal at this time.

After login, the download request appears: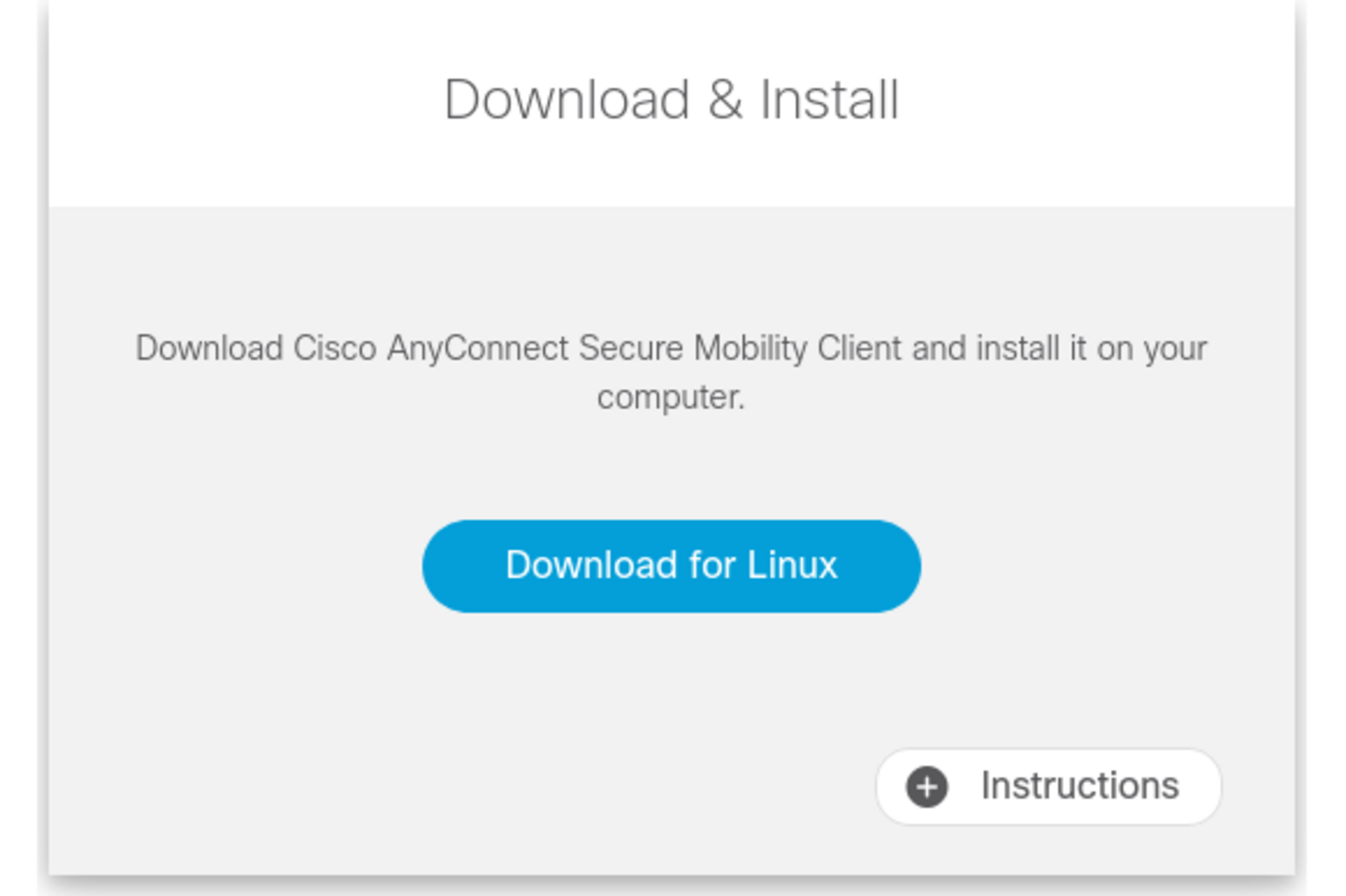 If required, the "Instructions" button can be used to call up the official Cisco instructions, which provide all the relevant information for installing the AnyConnect client. However, this is only provided in English.
Click on "Download for Linux" and save the file on your computer.
Please remember where you save the file, you need this location in a further step.
Navigate to the respective folder on the command line (terminal) and install the AnyConnect client with the command "sudo bash anyconnect[...].sh", replacing the part "anyconnect[...].sh" with the name of the downloaded file.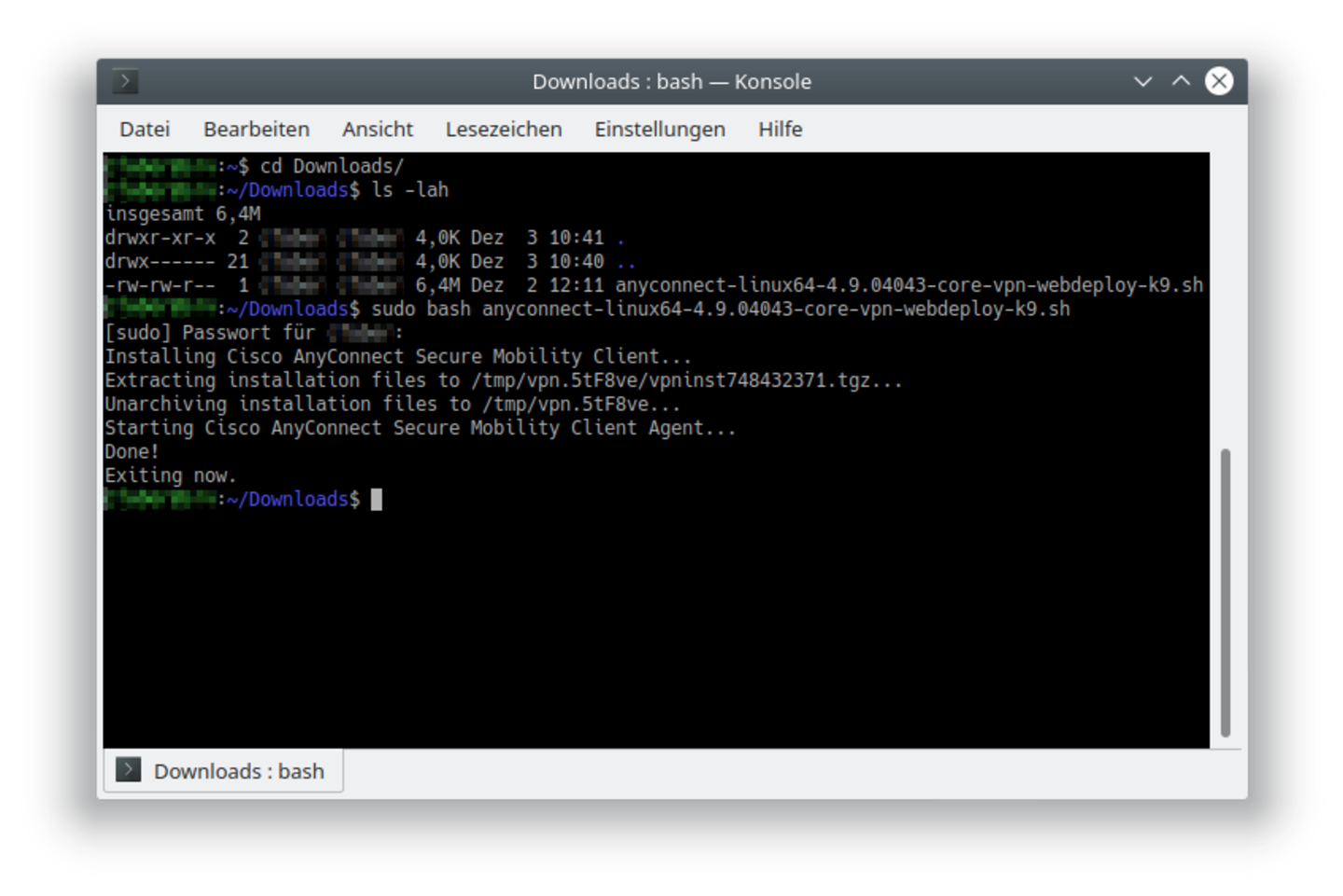 Afterwards you can start the AnyConnect client via your start menu or the command "/opt/cisco/anyconnect/bin/vpnui" on the command line.
To establish a VPN connection, please use the server vpn.tuwien.ac.at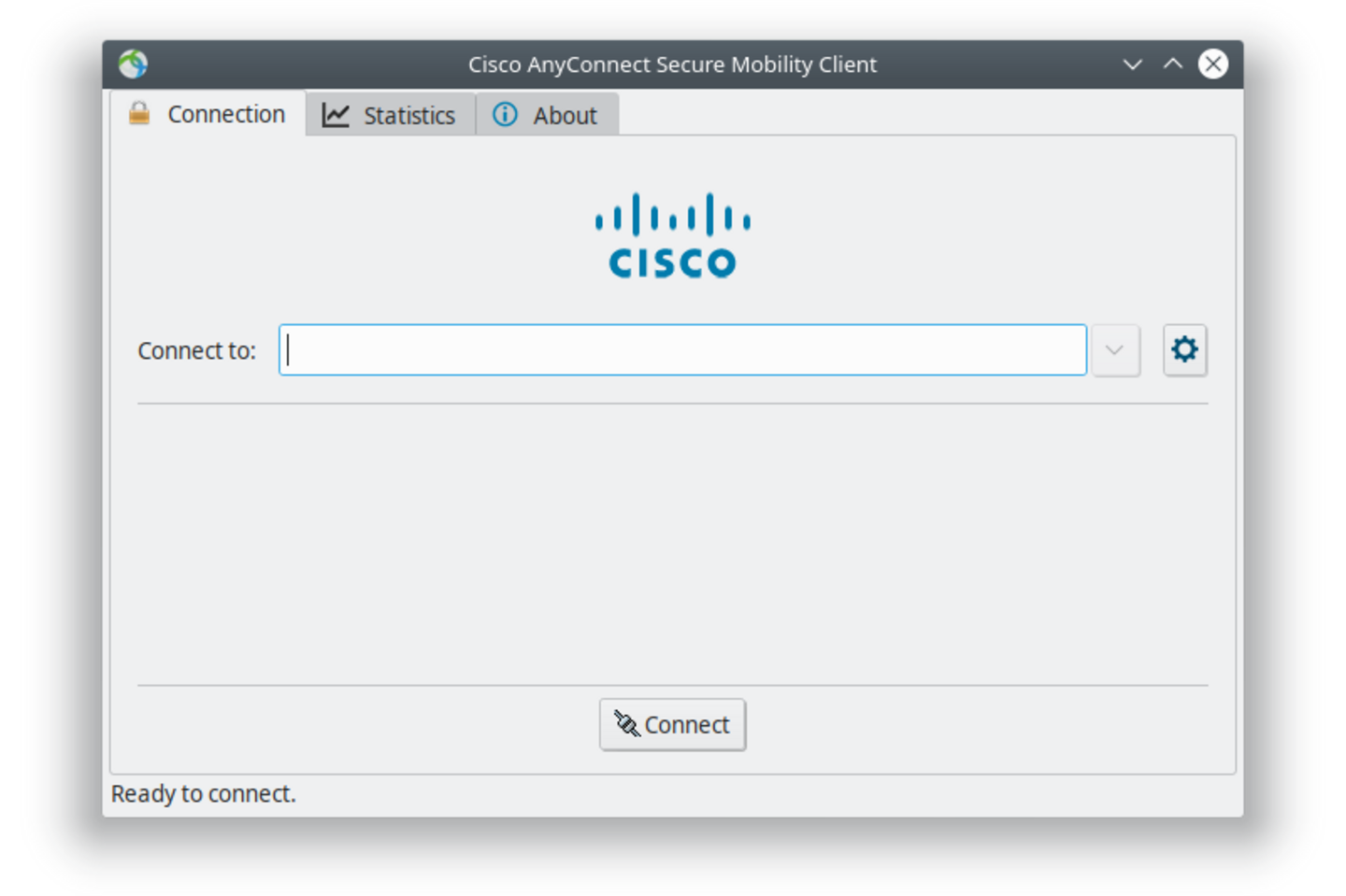 After clicking on "Connect" your access data will be requested, as well as the group to be used.
Please use "1_TU_tunnelled" as group, unless you need to access external resources (e.g. publications) that are only accessible from TU addresses!
In the group "2_All_tunnelled", all data traffic is routed through the TU, which places an additional burden on the TU Wien's Internet connection.
Further settings are not necessary. The connection is established by pressing "Connect".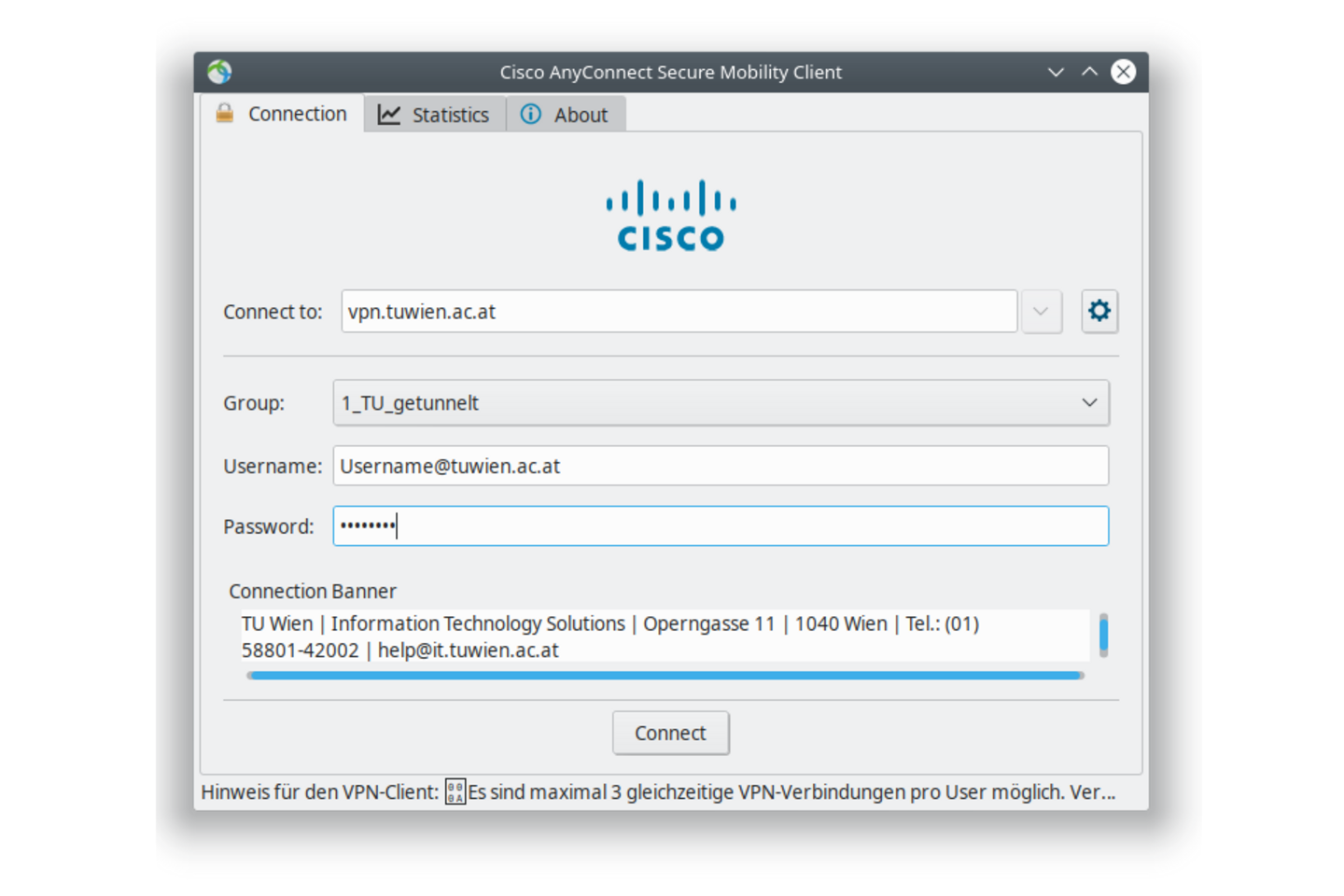 If for some reason you want to uninstall the AnyConnect client again, Cisco offers an uninstall script under "sudo /opt/cisco/anyconnect/bin/anyconnect_uninstall.sh
Service Center

© TU Wien