Activation and use of gateway encryption
Once you participate in gateway encryption, all your outgoing email (sent to non-upTUdate users) will be encrypted if possible.
Furthermore, all outgoing emails (sent to non-upTUdate users) are automatically signed.
We recommend the following procedure:


You will then receive an email from DigiCert, which was triggered by the certificate creation at the gateway. No action on your part is necessary!
Test signature:
Send an unsigned email to an address external to upTUdate (upTUdate does not sign internally via the gateway). The email will be provided with your signature.
Test encryption:
Send an email to an upTUdate-external address (upTUdate-internal is not encrypted) and put "#encrypt" or "#enc" in front of your subject.
The test recipient now receives an email "Register to Receive an Encrypted Email".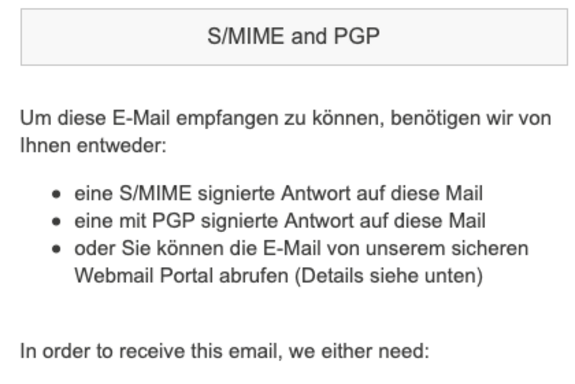 The recipient now has the following 3 options to receive the encrypted email:

by S/MIME-signed response to the registration request
by PGP-signed response to the registration request
by registering in a secure Webmail mailbox, from where the recipient can view it via a browser. The user receives a notification that a new email is in his inbox.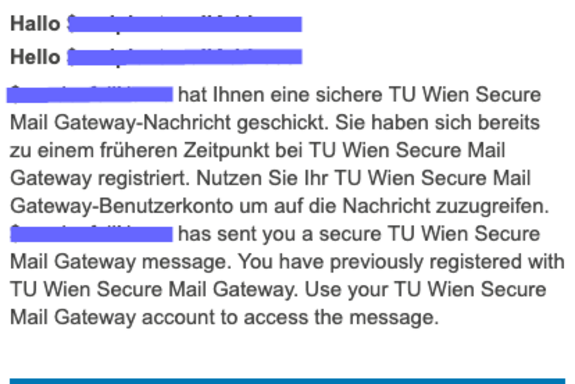 If you already have a certificate because you used client-based mail encryption,
Keep the existing (old) certificate in your mail client, otherwise you can no longer read your (old) encrypted (sent and received) emails!
Turn off automatic signing on all your devices (because Gateway Activation automatically signs at the gateway), as soon as you only want to communicate encrypted via the gateway, revoke your old certificate via service.it.tuwien.ac.at/smime
Service Center

© TU Wien