Functional extension of upTUdate via gateway
Email gateway automatically encrypts and signs your emails.
An email encryption gateway acts as an email proxy between the actual mail server (upTUdate) and the Internet.
The gateway analyzes every incoming or outgoing email and sets certain actions according to the sender, recipient, subject or other characteristics.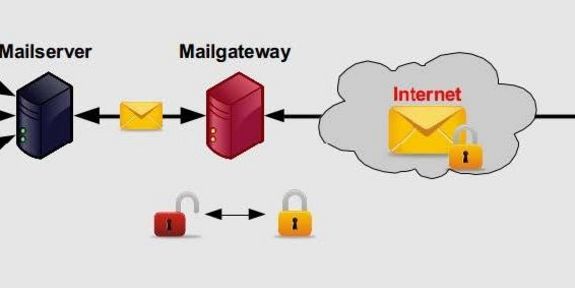 Outgoing emails are encrypted, if desired, without the users having to take care of the key management of the recipients.
If necessary, incoming emails are decrypted and sent to the internal email server in plain text so that users can read the emails from any device without any additional effort.
In contrast to client-based mail encryption, the certificate (key) does not have to be installed on every device used for encryption or decryption, and users do not have to manage the keys of the recipient group themselves.

With the email encryption gateway, an email is transmitted unencrypted to (or from) the email gateway.
This means that the individual e-mail within the TU.it infrastructure is unencrypted and can easily be read from any end device without installing a certificate.
If an email leaves the area of the TU.it infrastructure, it is encrypted as required.
For the participation in the gateway based encryption the option "Activate gateway" available in the TU.it-WebShop must be activated.
This will automatically issue a new certificate for your email address and manage it at the email gateway.
At the issuance you will receive information that a certificate has been issued for you. From this point on, you can use gateway-based encryption.
Service Center

© TU Wien