MacOS - Outlook 2019
Preliminary remarks
The screenshots were taken under macOS 11.0.1 (Big Sur) with Microsoft Outlook 2019, version 16.43.
The setup of accounts via Exchange's own protocol is described. IMAP would be possible, but is not recommended in Outlook and is therefore not described in detail here.
Currently the automatic configuration does not work yet (in contrast to Outlook for Windows).
Send-As for distribution group: Currently it is not known if and how Outlook under MacOS can send with the address of a distribution group (no problem under Windows).
Set up personal user account
When Outlook is started for the first time, a few welcome messages are shown, which can be skipped.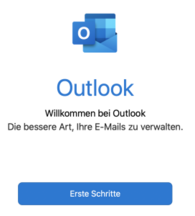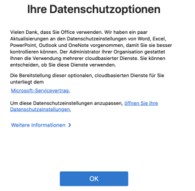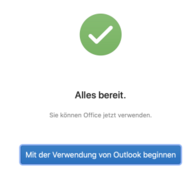 If no account has been set up yet, the Set up email dialog is displayed.
If you want to set up another account in addition to the existing one, go to the Tools menu, select Accounts and then click on the plus sign at the bottom left and select New account.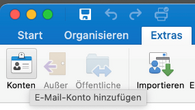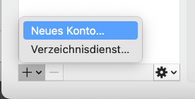 Now enter the email address.
It is best to enter your own generic address (vorname.nachname@tuwien.ac.at). → Next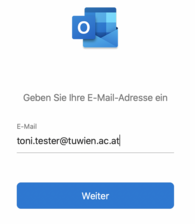 Since the automatic configuration does not yet work under MacOS, an input mask is displayed after a few moments in which you enter the missing configuration data.
The user name is the assigned upTUdate user name, followed by '@intern.tuwien.ac.at'; the server name is 'mail.intern.tuwien.ac.at'.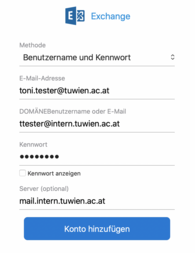 And the own account is already configured and displayed in the sidebar.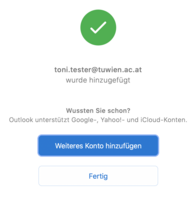 Service Center

© TU Wien