Set up functional account
In the example, a functional account 'fatest' is set up, for which a distribution list with the destination 'E020-02-3.fatest@intern.tuwien.ac.at' has already been set up in TISS.
The own account must be a member of the corresponding authorization group to be able to access the account.
To set up another account, go to the Tools menu and select Accounts.
In the next window, click the plus sign at the bottom left and select New account.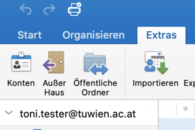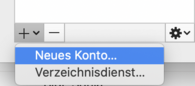 Continue by entering the email address (even if no automatic configuration is found with it yet).
It is best to enter the address as it is created in TISS for the functional account.
If such an address does not exist, enter the delivery address of the functional account, in the example this would be E020-02-3.fatest@tuwien.ac.at.
Basically, it remains the same, which address you specify, only the automatic account designation differs later.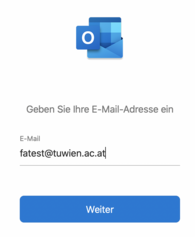 Possibly now the type of account is queried, one selects Exchange. (This query does not always occur; see personal account).
On the next input mask one enters now the missing configuration data.
As DOMAIN user name or email the own delivery address, i.e. benutzername@intern.tuwien.ac.at is entered.
The server is 'mail.intern.tuwien.ac.at'.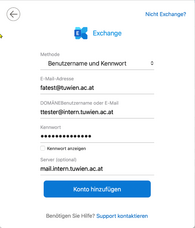 This is (hopefully) followed by confirmation that the account has been successfully set up.
The functional account is set up and displayed in the sidebar. Also calendar, contacts etc. are now synchronized.
Personal and functional accounts are now set up and connected to the server. This can be seen from the green dot in Accounts.
Service Center

© TU Wien