Information server: Technical information about your account
A form for changing your password and information about your personal account (storage space, ...) can be found at https://login.tuwien.ac.at/en/passwort/mitarbeiter, opens an external URL in a new window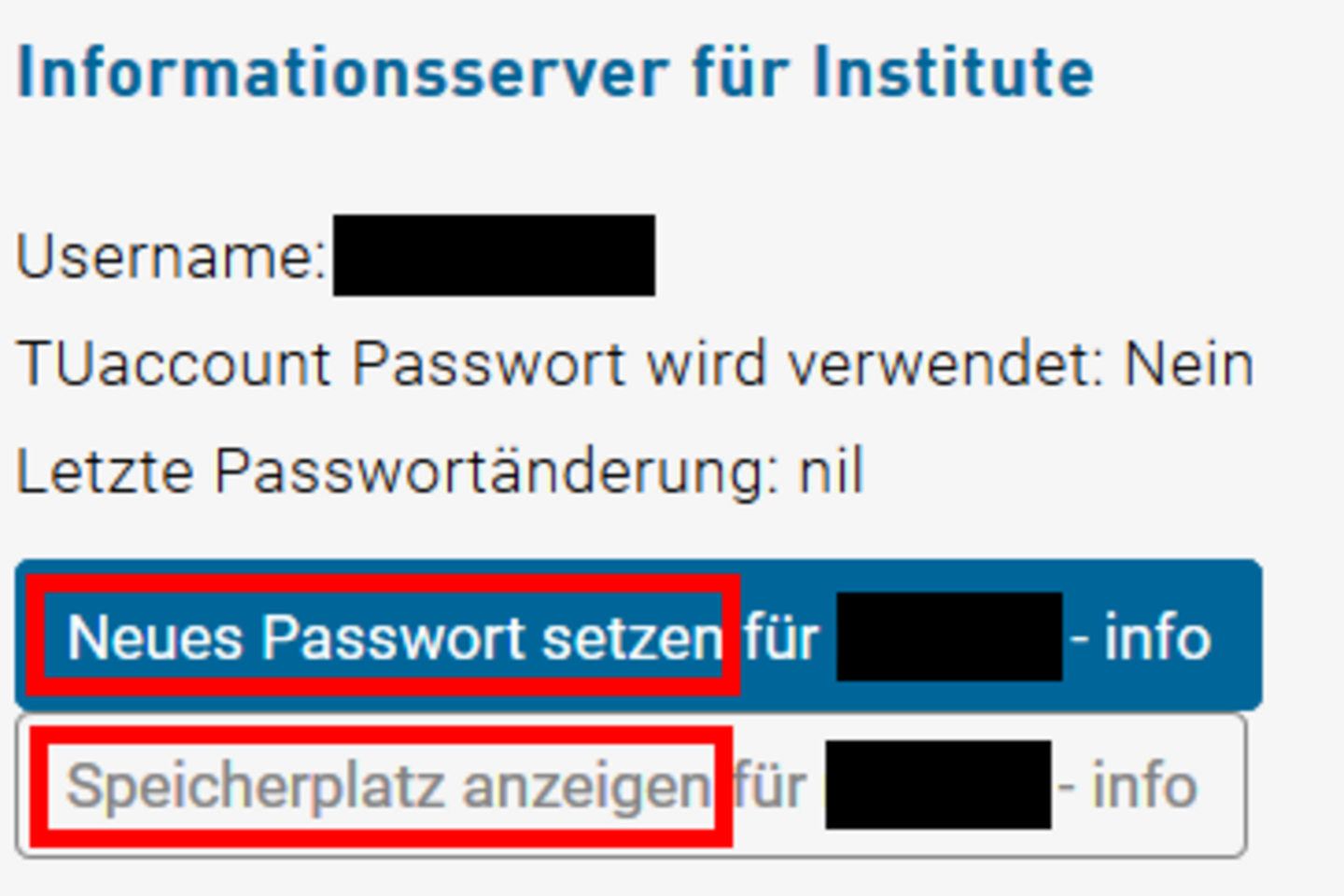 Each account contains the folders "logs" and "statistics" in the root directory, as well as a folder for each URL account or VirtualHost, usually called www-data.
The access and error log files for your account are stored in the "logs" folder. For each of your accounts there are the files KÜRZEL.access.log and KÜRZEL.error.log. The access.logs are used to generate the statistics, the error.logs are used to log access errors to your website. Starting from a size of 1MB the logfiles are compressed automatically and the last 20 versions are stored with a numerical extension.
In the "statistics" folder, data and HTML pages about your statistics are automatically created every hour. ATTENTION: If you make changes or delete files here, parts of your statistics may be lost!
For each account there is a root folder for the web pages, usually called "www-data". In order to execute CGI scripts, they must be located in a directory "cgi-bin" directly below this root folder. If this directory "cgi-bin" does not exist or has been deleted, you can simply create it again with your client software.
CGI scripts usually run under the username and group "apache", if you want to change this, please read the information about cgiwrap, opens an external URL in a new window. CGI scripts always run under their own username and group.
Example of a possible structure after logging in via scp/sftp for the account TEST and the URL account institut:
./TEST/www-data/ Your HTML files
./TEST/www-data/cgi-bin/ Your CGI scripts
./TEST/www-data/cgi-bin/cgiwrap CGI-Wrapper
./TEST/logs/
./TEST/logs/institut.access.log
./TEST/logs/institut.error.log
./TEST/statistics/ Various data on your statistics
User or group for CGI scripts: those of your own account
Perl path: /usr/bin/perl
Python path: /usr/bin/python
Home directory: /home/info/users/LOGIN
Document root: /home/info/users/LOGIN/KUERZEL
CGI directory: /home/info/users/LOGIN/KUERZEL/cgi-bin
PHP info: https://info.tuwien.ac.at/phpinfo.php
A MySQL database is automatically created for each account:
Host: localhost
Database: username
User names: username (full access), username_ro (read-only access)
Password: that of the application (cannot be changed online)
The space usage of your database will be charged against the storage quota of your account. When you first create a table, it can take up to thirty minutes for the required storage space to be included in the quota calculation.
A web frontend, opens an external URL in a new window is available for the administration of your local databases. As user name you enter usernames and your password for the database.
Please also note that for security reasons access is only possible from the TUnet and only via HTTPS! (Unencrypted HTTP results in a "Forbidden" error message).
The statistics are created or updated once a week (Wednesday morning) by adding the entry "statistics" to the root path, e.g.
"http://info.tuwien.ac.at/INSTITUT/statistics" or
"http://INSTITUT.tuwien.ac.at/statistics".
Service Center

© TU Wien